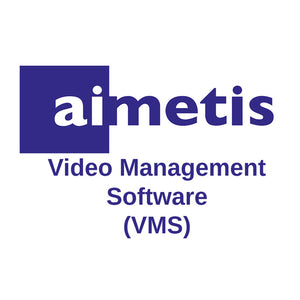 Key features of Aimetis AIM-SYM7-E
High Scalability- Aimetis Symphony is highly optimized at both recording and streaming video, which reduces onsite hardware
Web-Based Administrator- Administrators now have a dedicated HTML5-based web client, eliminating the need to install and maintain a Windows-based management client
Centralized Cloud Management- Through the use of Aimetis Enterprise Manager™, Symphony can be managed centrally providing software updates, configuration, and health monitoring over multi-site deployments
Native Analytics- Symphony was developed from the ground up to support video analytics. Analytic applications include motion tracking, auto-PTZ tracking, people counting, and many more
High Security- Symphony employs SSL encryption on all communications to ensure a secure deployment. Penetration testing is routinely used to proactively identify and resolve potential security issues
Server and Storage Failover- Aimetis Symphony efficiently delivers built-in failover functionality without the need for expensive Microsoft Clustering and extra servers
Aimetis Symphony™ Standard - IP Video Recording
Aimetis Symphony™ Standard is the ideal choice for organizations making a transition from analog CCTV or DVR technology to IP video while looking to simplify the management of network video.
Leverage commercial off-the-shelf computers from leading manufacturers
Unlimited* cameras per server
Edge Storage Support
Automated response to alarms (e.g. send an email notification, start recording, etc.)
Remote Live View
Video Analytics Support
Continuous Recording on Motion or Alarm
Integrated Site Map
Multi-stream camera support
Mobile device support (iOS/Android)
Robust video management recording features:

Remote live view
Video playback
Record on motion
Integrated site map
PTZ control
Multi-stream camera support
* The server requires 1 license per device. Ex: for a system with 32 cameras and one DIO device, you require 33 licenses. If you increase the number of managed devices, the licenses will also need to be increased.
AIMETIS SYMPHONY™ PROFESSIONAL - IP VIDEO & INTEGRATED ALARM MANAGEMENT
Aimetis Symphony™ Professional combines the robust video recording features of the Standard license with enterprise-wide system scalability, third party system integration, and centralized event management capabilities.
Multi-server integration
Microsoft Active Directory Integration
Integrations to 3rd party systems (e.g. Electronic Access Control Integration
AIMETIS SYMPHONY™ ENTERPRISE - INTELLIGENT VIDEO MANAGEMENT
Aimetis Symphony™ Enterprise incorporates all the features and capabilities of standard and professional licenses. From built-in redundancy to video wall support and GIS maps, Aimetis Symphony Enterprise delivers the most comprehensive video management system.
Server Failover
Storage Failover
Video Wall
GIS Map support (ArcGIS)
Load Balancing
For commercial use only in the Brazilian Market, if you are not from Brazil, do not buy it.
People who bought this product, also bought